For Advertisers
If you are a company involved with cat-related products or services, and are interested in being a sole advertising sponsor for this website, we would like to hear your proposals. As you will have noticed with just a quick browse of this website, we built the directory to provide useful information for cat owners, not as a platform for reams of irrelevant advertising. However, we are interested in finding a single site sponsor/advertiser to help us pay the bills.
We can only accept advertising proposals for products or services which relate directly to our users and which do not conflict with the interests of the catteries and vets listed in the directory. We are looking for long-term sponsors with a minimum 12 months' commitment. If you are interested in associating your brand with our website, please use the links below to send us details of your proposal.
General Restrictions
We're interested in advertising from companies offering products of interest cat owners, which will include things like pet foods, petcare products, toys, pet insurance and so on.
Unfortunately, in the spirit of fairness, we cannot accept sponsor advertising from veterinary groups, as we feel that this will be detrimental to those vets listed in the directory. If you are the owner/manager of a veterinary group, please consider sponsoring our website 'adoptable.co.uk' which is concerned solely with pet welfare and pet rescue organisations.
Rates and Duration
As perviously mentioned, due to the amount of work involved with adding advertising to the directory, we are only interested in discussing sponsor advertising from companies open to a minimum 12 month commitment. We are aware that this is not how most advertising is planned. We do not employ staff to deal with advertising and do not have a rate card, so please don't ask for one!
Please tell us who you are, what you want to do (the more information provided, the better) and we will consider your request. Our main focus is on ensuring that all content on this site, including any sponsorship, is relevent for our visitors, and any decisions will be based on that.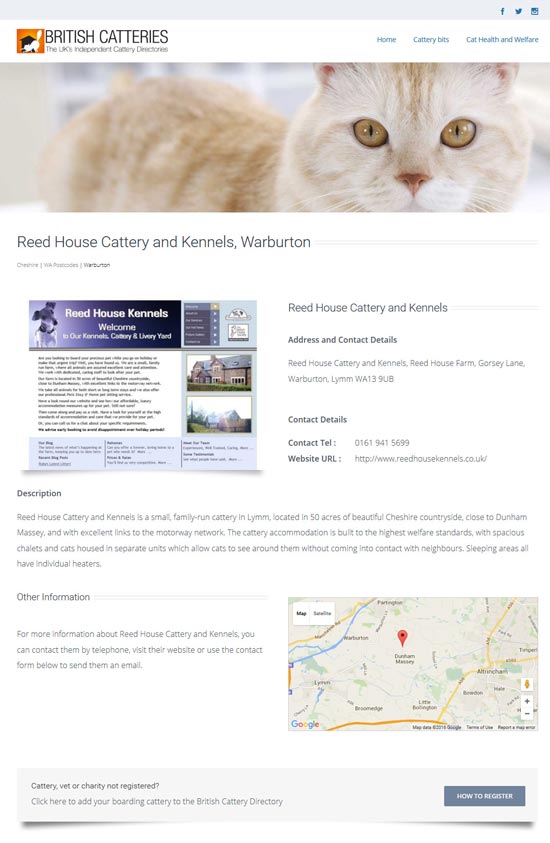 Looking to advertise your cattery, vet or rescue centre?
If you want to add your cattery, veterinary practice or a cat welfare organisation to this website, go to the top of this page and click 'add your business to the directory', or scroll to the bottom of this page and choose one of the 'How to register' links. You cannot do it from this page. Thank you!