Getting your boarding cattery online
Getting a website for your cattery is important. No matter how successful your boarding cattery or kennels is, it needs a professional and effective website. Not just because everybody else has one, but because a decent website helps to protect the business you've already got, and provides a source of new business in the future.
In simplistic terms, having a professional website is like having an employee who does nothing but advertise your business and give advice to existing and potential customers, 24 hours a day, 7 days a week, 52 weeks a year.
Unlike us mere mortals, it doesn't even take a toilet break!
We've all seen things change enormously over the past 10 or so years. In the not so distant past, if you wanted to find a local cattery or boarding kennels, you'd pick up the Yellow pages or Thomson's local guide and look for something there.
These days almost nobody does that any more and the majority of searches are made using Google. That's why the Yellow pages will cease to exist after the 2018 editions.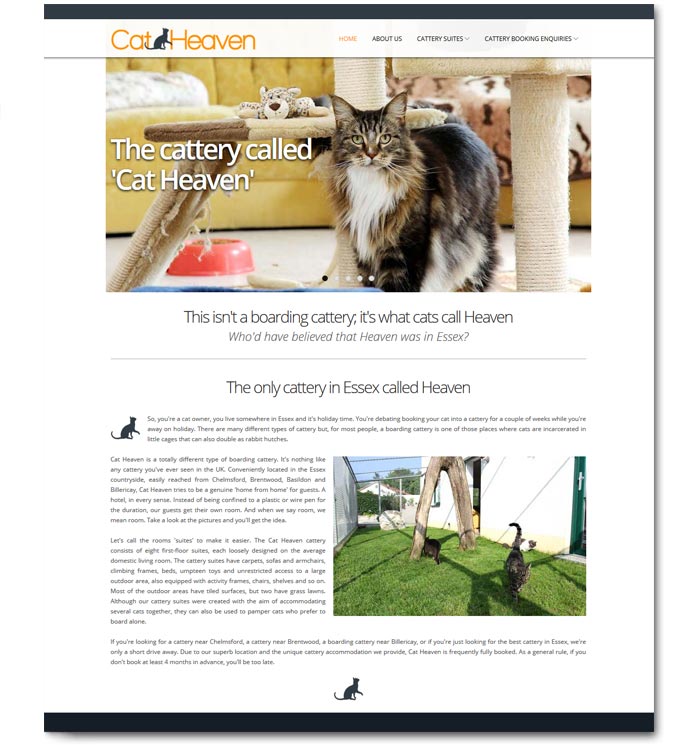 Marketing your cattery or kennels
Every year we see a scary number of boarding catteries and boarding kennels close down. Obviously, businesses fail for a variety of reasons, but far too many fail because they didn't market themselves properly. Taking a display ad in the Yellow pages and a regular advert in the local newspaper might have worked 15, 10 or maybe even 5 years ago, but it counts for almost nothing in 2018. If you're not online, you're already at the exit ramp.
Rubbish is always free
We've seen endless adverts recently for 'free websites' and the only thing we can say is don't do it! Free websites, like free cat food and unlimited free cattery accommodation, come from the 'free money' tree. On the rare occasions that 'free' doesn't mean 'pay more later' it generally means 'rubbish we can't sell'.
Your existing customers will know that you run your cattery of kennels in a thoroughly professional way and have superb facilities. People who haven't used you in the past can only judge who you are and what you offer from your website. That means an amateurish or badly put together website reflects badly on your business.

This website was created by BeenDesigned. If you're looking for a website for your cattery, kennels or any other type of business, we'd recommend having a word with them to see what they can offer you. They work with clients of all sizes and are just as happy building a website with website with 5-6 pages as one with 500-600.
One of the things the average cattery or kennels owner will appreciate is that BeenDesigned offer an optional full maintenance service. Basically, they deal with maintaining and updating the website software, security and backups – all things that need regular attention. It means you can devote all your time to running your business and let BeenDesigned run your website.
Anyway, whether you're looking for the first website for your cattery or kennels, or want to modernise an existing website, we'd recommend BeenDesigned. If you'd like to know more about them, click the button below.