Get your cattery, kennels or vets online!
Things have changed enormously over the past 10 or so years. Not so long ago, if you wanted to find a local cattery or veterinary clinic you'd pick up the yellow pages and look for something in your area. These days, people use computers, laptops and smartphones to search online. For the majority of people, if you don't have a website, you're invisible.
The average cat owner in Oxfordshire will search Google for something like "cattery in Oxford" or 'vets in Oxford' and if you don't have a website, they won't find you. What's more, your website needs to be properly put together if you want Google to tell people it exists. In simple terms, if you don't want your business to get left behind, it needs to be online with a decent website. It's that simple.
First impressions count
Whether you own a small garden cattery, a large network of veterinary clinics or an animal welfare charity, your website is your shop window. It needs to be attractive, give people confidence, be easy to navigate, no matter what type of browser visitors are using, and effective in Google searches.
If don't already have a website, speak to us. We can create a website for your cattery, veterinary clinic or charity that you can be proud of, and that will achieve results. A professionally created website is a marketing and promotional tool, helping you not just to find new clients but also to protect the business you already have.
Extra Services
In addition to creating a website for you we can also take care of hosting and looking after security and backups.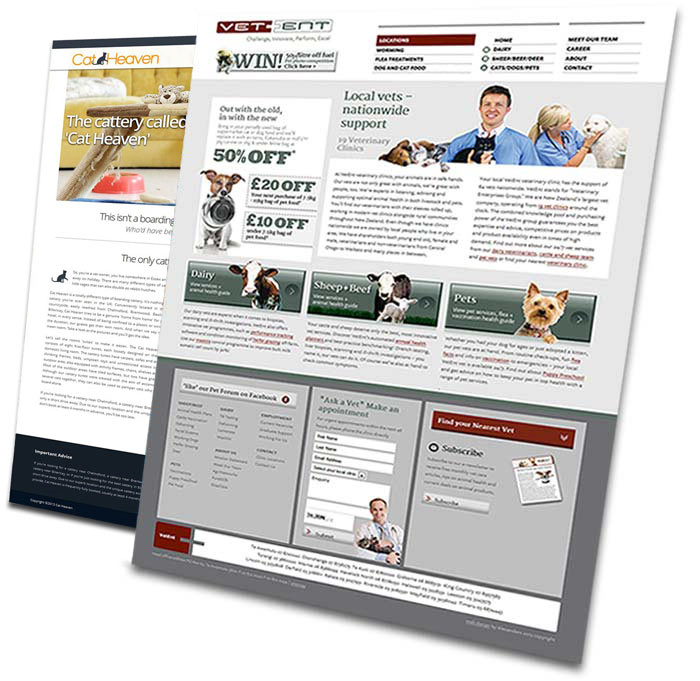 We've said it elsewhere but it's worth repeating; our websites are designed to be mobile compatible, which means that your website can be viewed by visitors using smartphones and tablets, as well as normal computers. You don't need to pay extra for a separate mobile website.
What type of website?
HTML and WordPress websites account for the vast majority of websites online today, and we can create either type of website. This website, for example, is a WordPress website. We used wordpress because our website needs to be able to find thousands of pieces of data and organise them into directories, allow business owners to register on the site and create and edit their own pages, and so on. The average website for a small business has absolutely no need for that degree of sophistication. If you want a simple brochure-style website that you won't need to update frequently, an HTML site is probably ideal. What matters is what you want your website to do!
Pricing
| HTML WEBSITE DESIGN | COSTS |
| --- | --- |
| Website design and creation – up to 6 pages | £350 |
| Website design and creation – up to 12 pages | £500 |
| Website design and creation – up to 24 pages | £800 |
| On-Page SEO Optimisation | Included |
| WordPress CMS Website Creation* | From £500 |
WordPress CMS Websites*
Prices for WordPress CMS websites start at £500, but are priced individually, depending on the amount of work and extra software required. If it's a simple website and doesn't have tons of pages, it'll probably cost around £500 – our 'from £500' doesn't mean '£1000 when you ask'. It's just that if we design a website for you, we do everything, including creating all the pages specified and making sure it all works properly. For this reason, as every website is unique, it isn't possible to provide a simple price structure.
If you are interested in a WordPress website, we will be pleased to provide you with a full quote once we receive details of your requirements.
Running a Charity?
If you represent a registered charity and you're interested in getting a website, please contact us with your needs. Although we can't work for free, we are able to offer discounts to charities. Please note that discounts are available only to existing, registered UK charities.
Get a Quote
If you're debating getting a new website, please get in touch with us to discuss your needs. The more information you can give us, the more accurate an estimate we can give you. If you are looking to replace an old website, please also give us the URL of the site.