Whether you ask us to create a website for you or do it yourself, one thing remains the same; you must plan your website properly. If it's not done properly you'll be wasting your time, effort and money. So, here are a few tips that should at least help you on your way!
Getting Started
Before you can do anything else, you need to decide exactly what you want your website to do. Do you want to play videos on your pages, have a picture library, a contact form and map showing where you are, and so on? Each thing requires specific software or coding and affects how a site is built.
Websites for catteries, kennels, vets and charities exist to promote services and facilities, and don't need to be complicated. The focus of the website is to persuade people to contact or visit you, so should contain enough information to let people make that decision, and make it easy for them to get in touch; via address, telephone and email.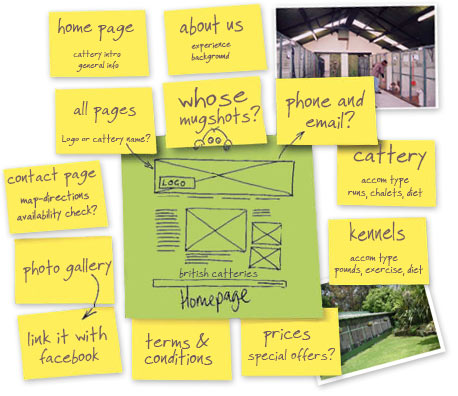 Websites for Catteries
Your home page is the first and sometimes the last part of your website that people see. For vistors it must be attractive, informative and easy to navigate, and for Google it needs to load quickly, work for mobile browsers and contain plenty of original and relevant content. By content, we mean information – words. It's your shop window, so decorate it well!
Next, decide what other pages you need. If you have a kennels and cattery, it's a good idea to keep the two descriptions separate and devote equal attention to both areas. People will take it for granted that if you have a cattery, kennels or veterinary clinic that you like animals, so concentrate on describing your facilities and services. For example, don't assume that visitors will know that your cattery accommodation is heated – tell them!
Most sites include an 'about us' page, where you might offer information about you or your staff. You might want to explain the history of your business, your experience, qualifications and so on. You'll also have a contact form (not just a printed email address) which might include your office or opening hours. It's best to assume people don't know where you are located, so adding a map and perhaps written directions is usually a good idea.
Websites for Vets
Beyond the your home page, a website for a veterinary clinic will have an 'about us' section giving details of the clinic history, owners or staff. You might also want other pages to talk about your branch facilities and what treatments you offer, and so on.
In addition to a general contact/enquiry form, you might consider adding a client registration form to allow new clients to register. If you're stuck for ideas, take a look at the competition and see what you like and don't like about their websites.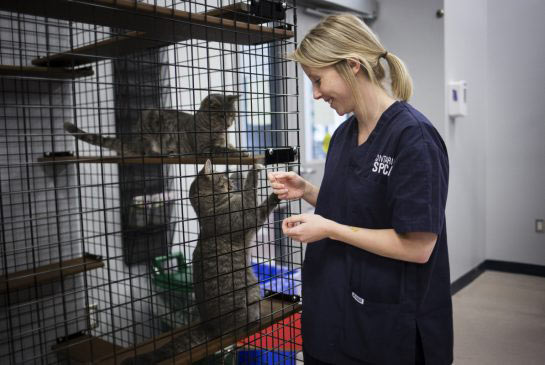 If you have more than one branch it makes sense to have individual pages for each branch office. You can then have contact forms for each clinic, allowing enquiries to be sent to the correct branch without also exposing your email address to spam.
Images and Logos
Good quality, relevant photos can make even a boring website more interesting, so choose the photos for your website carefully. You want a website to help 'sell' your business and facilities, so it makes sense to have some lovely photos of your facilities, buildings, surroundings and guests. If you haven't got good quality photos, this would be an excellent time to hire a photographer!
If you already have a logo for your business you should use it on your website. Always use the highest quality digital version that you have. If you don't have a logo and want to use your name as your logo, that's fine. If you don't have a logo but want one, you could try 99designs.com where professional logo designs are available from about £200.
Success takes time as well as planning
If you haven't had a website before you might imagine that as soon as it's online, Google will find it and start sending people to see it. Sadly, it's not like that. It takes time for Google and the other search engines to index your website and start sending people to you. Creating a website this week isn't going to generate bookings next week… so plan in advance.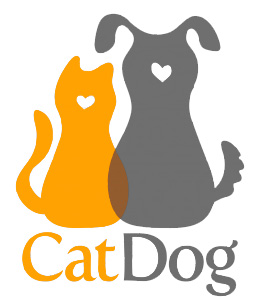 There are countless factors which affect how many visitors Google and the other search engines send to your website, but you can be sure that your website will not set the world on fire overnight. That's more or less guaranteed. We can help you get the best results, but it will take a couple of months for your website to start achieving notable results. Be patient.
Don't fall for spam emails from 'SEO experts' offering to get your website on Google's front page. These same people send emails about unclaimed lottery jackpots and million dollar inheritances. They also sell free money, the cure for influenza and incontinence knickers. These people, like their products, are full of..
We can create a website for you
If you're debating getting a new website for your cattery, veterinary practice, charity or any other type of organisation, we offer very affordable in-house website design services! If you'd like to know more about our website design services, click the button below.