Getting ready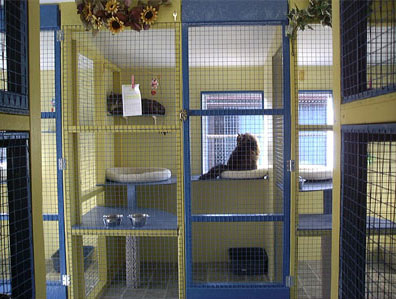 Firstly, no matter how friendly and cooperative your cat is, don't be tempted to transport him or her in your arms. Get a proper cat carrier, one more than big enough for your cat. It may be that your cat has never had a panic attack, fought its way out of your arms and headed for the horizon, but there's always a first time. Line the cat carrier with newspaper, rather than bedding, and avoid the temptation to use a cardboard carrier – wet cardboard isn't going to restrain a cat determined to break out! Avoid feeding your cat before travelling to reduce the possibility of travel sickness.
Take your own bedding for your cat. Catteries often ask you to do this because a familiar smell will help your cat relax in new surroundings. For that reason, don't wash the bedding! Also, pack any favourite toys your cat may have.
Be sure to take your cat's vaccination records with you. Failure to do so will inevitably result in the cattery refusing to accept your cat!
At the cattery
On arrival at the cattery, ensure that any relevant information relating to diet, medical history or medication has been clearly written down on your cat's record card or booking contract. Be sure to give the cattery a number on which they can contact you, or that of a friend or relative they can contact in case of need. Make sure you take the cattery's phone number with you, just in case.
Become a Contributor
We're keen to hear from people with knowledge and experience of cat care and cat welfare who are interested in contributing articles in the Cat Chat section of the directory. If you've got little free time and you'd like to become a contributor, please click the button below to get in touch, telling us a little about yourself and how you could contribute.