Abbotts View Farm Cattery, Aylesbury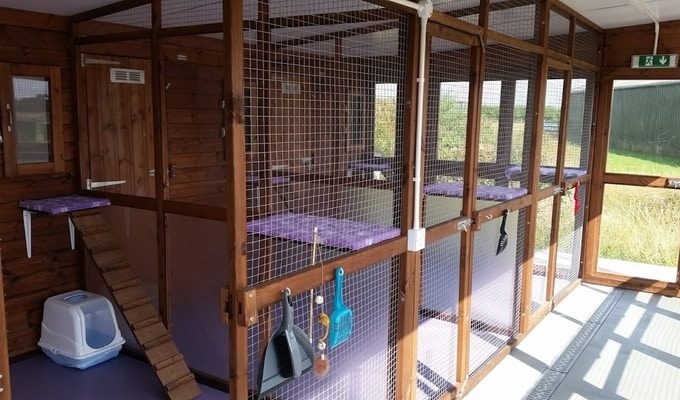 Abbotts View Farm Cattery
Abbotts View Farm , Moat Lane,, Aston Abbotts, Aylesbury
Buckinghamshire, HP22 4NF
Contact Details
Contact Tel :07989 063595
Website :Click to visit Website
Email :Use the email form provided below
Abbotts View Farm Cattery is a new, eco cattery with just 10 pens, all luxury/family sized to house up to 4 cats from the same family. Our cattery is situated on our Alpaca and Rare Breed Farm, so there is lots to see and each pen has panoramic views of the farm. We live onsite with cctv and electric gates providing 24 hour security.
Each of the large bedrooms has a choice of shelves as well as lots of comfy blankets and beds in hidy holes. The bedrooms have a full height door with a cat flap and also a window, which opens out onto a shelf with a climbing ladder into the play/exercise area. Full height sneeze barriers which is obscured at the bottom and clear at the top. and wire safety mesh to the front which opens onto a safety corridor, also surrounded by wire mesh and lift out glazed panels. In the summer these are lifted out so the cats can smell and see the outside whilst staying safe. For the winter, the bedrooms are all individually thermostatically controlled and really cosy. As we are an Eco farm, the insulation in these pens is triple the thickness of standard designs.
We have a completely separate isolation pen and a kitchen with fridge and washing up facilities where we store our feed. We are a family run cattery and with just 10 pens, we really get to know each and every cat who stays with us and are experts are reading body language so we can tell exactly when they want to interact with us and when they don't! They happiness and comfort is our top priority.
Other Information
For more information about Abbotts View Farm Cattery, you can visit them in person, visit their website, telephone or send them an email (if available) using the form below.
Garden Cattery

Indoor Cattery

Individual Suites

Family Suites

Outdoor Runs

Indoor Runs

Heat Pads

Toys provided

Cater for special diets

Insurance Included

Medication administered free

Grooming Service

Quarantine facilities
We are open Mon- Friday 09:30 -12:00 and 16:30 - 18:00 and Sat/Sun 09:30-12:00. We are closed for collection and drop off on Christmas Eve, Christmas Day and New Year's day but your cats can still stay with us during those times.