Anastasia's Cat Hotel, Luton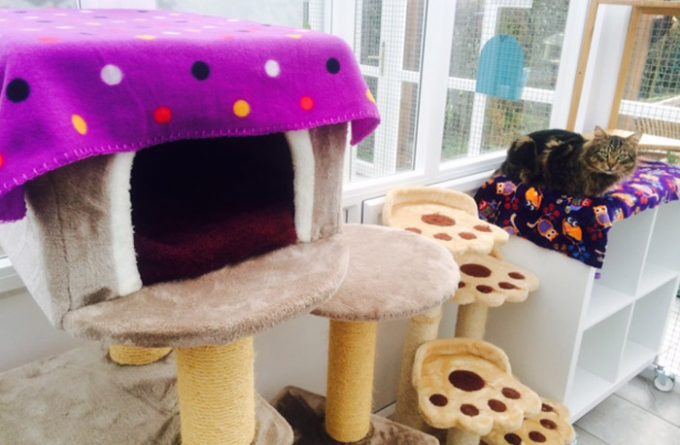 11 Hawthorn Avenue, Luton
Bedfordshire, LU2 8AW
Contact Details
Contact Tel :07542 595 295
Mobile Tel :07542 595 295
Website :Click to visit Website
Email :Use the email form provided below
~ Providing great holidays for cats since Nov 2014 ~
Hello from Anastasia's Cat Hotel - Luton's first modern luxury cat hotel, with some of UK's most spacious cat accommodation with webcams and very generous opening times (including Sundays and Bank Holidays)! :o)
Situated only 5 minutes from Luton airport and 10 minutes from J10 of the M1, we have some of UK's most spacious cat rooms in our back garden. With only 6 rooms, we have enough time to spend with all our kitty guests. Each room has a heated bedroom with a webcam, and a covered "living room" (aka exercise run) with climbing frames, scratch posts, tunnels, and plenty of other toys. In the safety corridor, there are communal TVs (playing "Cat Dreams" dvds, nature documentaries, and regular TV programs), a radio, bubble tubes with floating fish, and jellyfish tanks, so our guests have something to look at at nighttime, in addition to the foxes, bats and hedgehogs lurking outside every night (our guests LOVE watching the foxes!). During daytime, our guests enjoy watching all the different birds and squirrels that visit the bird feeders, and we regularly go in to play with them, to give them cuddles, and brush whoever needs/wants brushing.
Humans who's kitties stay with us, get full access to the webcams, so they can check in and reassure themselves that all is well! In addition to the webcams, I also send updates with photos and videos.
Needless to say, we are licensed and insured and there is at least one responsible adult at home (on the premises) at all times. Our daytime vet is only a 3 minute drive away, and the out of hours emergency vet is only a 7 minute drive away. Both Nigel and myself (Anastasia) have valid Cat First Aid certificates, and Anastasia is currently 2 weeks away from completing the Advanced Certificate in Cat Health and Welfare (Boarding) from International Cat Care (formerly Feline Advisory Bureau).
Our opening hours for visitors (viewings, drop offs, collections) are very generous: 08:00-18:00 Mon-Sat; 10:00-16:00 Sundays and Bank Hols. But please note that all visits are strictly by appointment only, so please do not be offended if you decide to just drop by without an appointment and we cannot see you - it does get busy here.
Our prices include food, treats, toys, play sessions, webcams and updates, brushing and light grooming, application of meds (drops, oral, insulin), bedding, litter, heating, insurance.
I am happy to answer any questions you might have, so do not hesitate to get in touch! :o)
Thank you for reading about us.
Anastasia
Other Information
For more information about Anastasia's Cat Hotel, you can visit them in person, visit their website, telephone or send them an email (if available) using the form below.
Garden Cattery

Individual Suites

Family Suites

Outdoor Runs

Toys provided

Cater for special diets

Insurance Included

Medication administered free

Grooming Service

Home Delivery / Collection
Our opening hours for visitors (viewings, drop offs, collections) are very generous: 08:00-18:00 Mon-Sat; 10:00-16:00 Sundays and Bank Hols. All visits (viewings, drop offs, collections) are strictly by appointment only.