Cottage Boarding Cattery, Sandy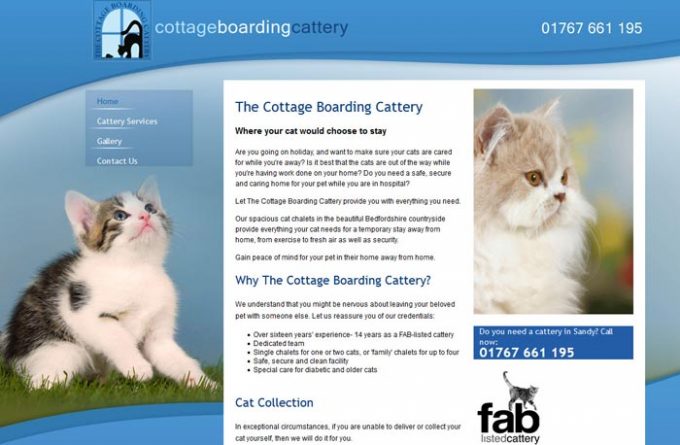 Rose Cottage, Hatch Common, Hatch, Sandy
Bedfordshire, SG19 1PS
Contact Details
Contact Tel :01767 661 195
Mobile Tel :01767 682343
Website :Click to visit Website
Email :Use the email form provided below
Located in a quiet country location in Sandy, Bedfordshire, Cottage Boarding Cattery is a Feline Advisory Bureau-listed cattery. The cattery offers high standards of hygienic care, and cats which need extra attention, such as diabetic or aging cats are also specially catered for. The cattery accommodation offers heated chalets with covered outdoor runs, a sun shelf and scratching post. Special diets can be catered for.
Other Information
For more information about Cottage Boarding Cattery, you can visit them in person, visit their website, telephone or send them an email (if available) using the form below.
Individual Suites

Family Suites

Toys provided
Monday- Friday: 10 AM - 12 PM, 4PM - 6PM
Saturdays: 10 AM to 1 PM
Closed for reception and collection of cats on Sundays and bank holidays.
In exceptional circumstances, we are able to arrange times for reception or collection outside these hours.