Froglands Purrfection Cattery, Kenley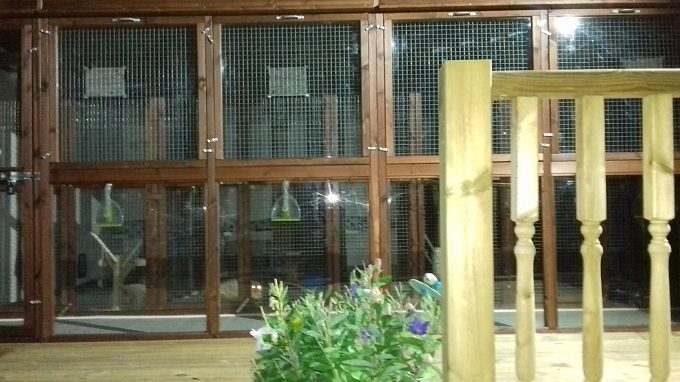 Froglands Purrfection Cattery
Froglands, 95 Valley Road, Kenley
Greater London, CR8 5BY
Contact : 07861 749951
Alt tel :0208 763 0011
Froglands Purrfection Cattery, Kenley. Are you looking for The Personal Touch then please read on…………………….
We are offering a purposely built and licensed cattery providing that personal touch in Kenley near Purley and Caterham. This is a family owned cattery offering luxury, including, grooming, cuddles and medications if required and supplied by you. I own two cats of my own and have had many cats over the years and adore them as they give so much love back and this is why I had this cattery built, to provide a service I expect my own cats to receive.
Froglands Purrfection Cattery is fully insulated, tiled flooring and each pen has individual thermostatic radiators which keep your lovely cats comfortable while they are on holiday with us. We also have CCTV cameras installed. The view from the cattery is fabulous, which has birds, butterflies, squirrels and foxes which the cats love to see as entertainment. Their pens are larger than average and can accommodate easily 2 cats if from the same family at a reduction and we have a family pen also which can take up to 4 cats, again from the same family. We also offer a 24/7 vet care and an isolation unit if required. Please review our webpage www.froglandspurrfectioncattery.co.uk to view the reviews and photographs of our visitors and pens and either email or call to view the cattery as you will be made very welcome so we can show you this quality cattery, which is licensed by Croydon Council and is on their recommendation list.
We are also lucky enough to have a "Cat Whisperer" volunteer who adores cats and of course they adore her. She spends time settling them in and enjoys every minute she is with us.
I understand the importance of being able to leave your cat somewhere you can be sure they will be given the very best care in luxury accommodation, allowing you to enjoy your holiday with complete peace of mind. Check out our reviews on both Google and our personal webpage, these are genuine reviews and there are pictures of our guests on our webpage too.
Chris Aitken
Opening Hours
Monday to Friday 9.30 - 1.00 pm and 4.00 pm - 6.00 pm
Saturday 9.00 am to 1.00 pm
Extended Opening Hours now include Sundays 10.00 am to 12.30 pm
Closed All Bank Holidays
Finding Froglands Purrfection Cattery
Add your boarding cattery to the directory
Adding your cattery to the cattery directory is simple and cost effective. To find out more, click below.