Knowl Hill Cattery, Twyford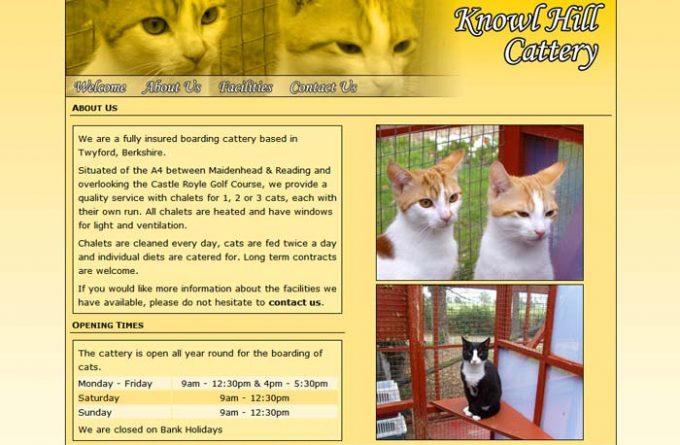 1 Castleman's Farm Cottages, Bath Road, Knowl Hill, Twyford
Berkshire, RG10 9UY
Contact Details
Contact Tel :01628 824523
Website :Click to visit Website
Email :Use the email form provided below
The Knowl Hill Cattery is conveniently located on the A4 between Maidenhead and Reading in Berkshire, backing onto the Castle Royle Golf Course. Cattery accommodation consists of chalets suitable for 1, 2 or 3 cats, and connecting chalets are also available on request. The cattery is a garden cattery and so the accommodation units are naturally bright and airy, and each have heated sleeping areas and individuals runs.
If you'd like to know more about Knowl Hill Cattery or the services and facilities they offer, use the buttons below to visit the cattery website or email the owners directly.
Other Information
For more information about Knowl Hill Cattery, you can visit them in person, visit their website, telephone or send them an email (if available) using the form below.
Individual Suites

Family Suites

Toys provided