Treetops Cattery, Chichester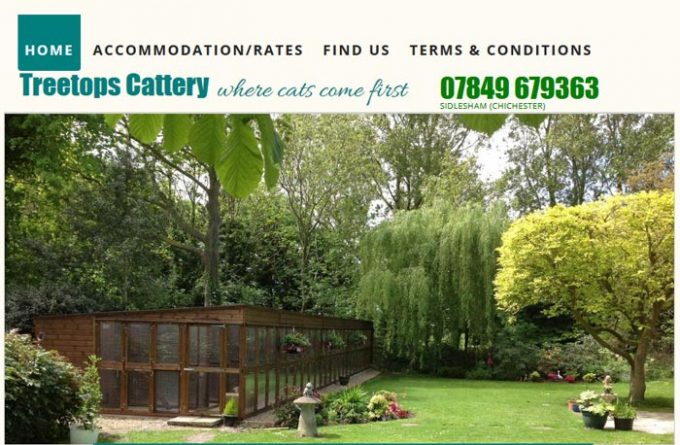 Highleigh road, Highleigh, Chichester
West Sussex, PO20 7QP
Contact Details
Contact Tel :07849679363
Mobile Tel :07849679363
Website :Click to visit Website
Email :Use the email form provided below
SMALL CATTERY - cats only ( NO kennels associated)
LOCATION in the peaceful Hamlet of Highleigh ( Sidlesham) just South of Chichester, within our garden.
HEATED CABINS Full height, luxury, heated sleeping quarters, leading through a cat flap into a secured outside run. The run has a sunning shelf, and a steam cleaned scratch post, comfy bedding (Soft 'n' Snug Deluxe), toys. If you wish to bring something from home which has a familiar scent such as their favourite toy, this is encouraged as it will help them to settle in.
SECURITY The Pens are set behind a security corridor, to ensure your cats safety at all times. There will always be someone on the premises 24/7 to ensure your cat has lots of care and attention. CCTV.
LICENCED All houses are built to the latest Environmental Health standards, licenced and annually inspected by Chichester District Council.
Other Information
For more information about Treetops Cattery, you can visit them in person, visit their website, telephone or send them an email (if available) using the form below.
Garden Cattery

Quarantine facilities
Mon- Sat 10am- 5pm
Viewing by appointment only please
Tel 07849679363 www.treetopscattery.com