Vonvarda Cats Hotel, Dunbar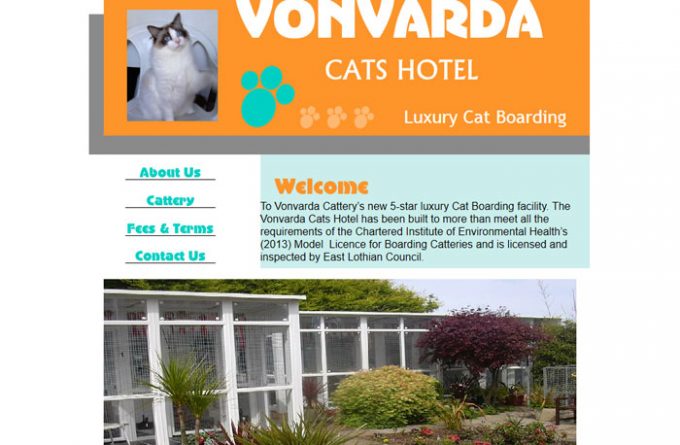 4 Thorntonloch Holdings, Dunbar
Lothian, Scotland, EH42 1QT
Contact Details
Contact Tel :01368840255
Website :Click to visit Website
Email :Use the email form provided below
Ultra modern, newly built licensed cat boarding facility in a rural setting near Dunbar just a short distance from the A1.
Our facilities are suitable for both indoor and outdoor cats. All our pens are large sized units, PVCu double glazed built by Pedigree Pens Ltd who are specialists in providing accommodation designed to give maximum comfort and safety to cats on holiday.
All our pens are individually thermostatically heated, clean and spacious and their glass frontages give all cat visitors unrestricted views to our landscaped gardens and the local wildlife.
Strict health and hygiene procedures are adhered to in all areas of the pens, corridors, kitchen and cleaning room.
Night vision security cameras are in operation 24/7 to further ensure your cats are always safe in our care.
Other Information
For more information about Vonvarda Cats Hotel, you can visit them in person, visit their website, telephone or send them an email (if available) using the form below.
Garden Cattery

Individual Suites

Outdoor Runs

Indoor Runs

Toys provided

Cater for special diets

Insurance Included

Medication administered free