Bramcote Animal Rescue, Nottingham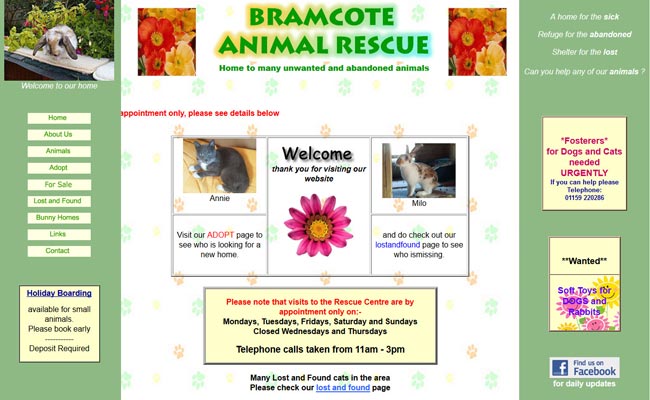 Bramcote Animal Rescue, Nottingham – The Bramcote Animal Rescue Centre located in the village of Bramcote near Nottingham has been rescuing abandoned animals for over 21 years. Many lost, unwanted, and poorly treated pets have found refuge and shelter at the centre and eventually loving new homes. Our rescue centre re homes all domestic pets including Dogs, Puppies, Cats, Kittens, Rabbits, Guinea-Pigs, Rodents and domestic Birds all with a non destruction policy. Some of the animals that have passed through our shelter are pictured on our animals page and many more like these are now ready for adoption and waiting for loving and caring homes. All cats are spayed/neutered before leaving us and a home check is made. The shelter always has a large number of Rabbits and Guinea Pigs available and is often featured in the local paper as help is sometimes needed to find enough homes for the animals when the shelter is full.
Add your rescue group to the directory
We are happy to provide free listings for recognised charities and voluntary organisations involved in pet rescue.