Blue Cross Rehoming Service, Old Warden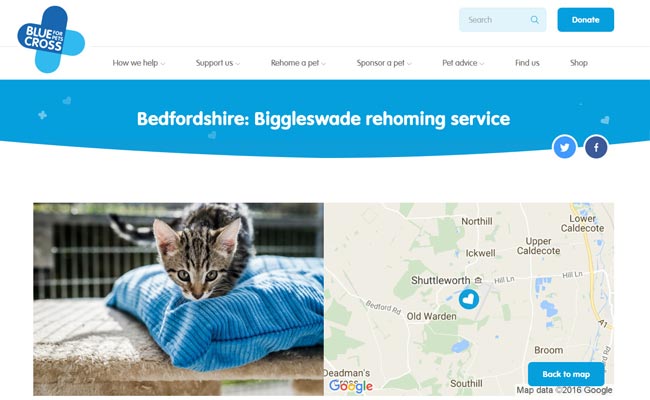 Blue Cross Rehoming Service
Shuttleworth College, Old Warden Park, Old Warden, SG18 9DX
Contact Details
Contact Tel :0300 7771931
Website :Click to visit website
Email :Use the email form provided below
The Blue Cross Biggleswade rehoming service is based at Shuttleworth College and has a constant stream of cats looking for loving homes. We don't use a cattery or rehoming centre - all cats awaiting rehoming are cared for by students and supported by the college team. A college team member coordinates the scheme, while students and volunteers provide daily animal care. This scheme is helping us to rehome even more pets every year, but of course we still need lots of people who want to adopt homeless cats on a permanent basis.
Please note if you would like to visit us, please make an appointment first.
We are building a network of volunteers throughout England and Wales to help us rehome more needy cats. This is an excellent role that the whole family can get involved in to help cats in need, and fosterers get all the benefits of cat companionship without the long term commitment or cost.
Roles include Foster carers - looking after cats in your own homes and helping them to find a new home. Foster scheme coordinators - providing administrative support to carers in their area, helping them to place their pets in new homes. Administrator – helping your local scheme coordinator and foster carers with important admin support. Social media support – helping us to rehome cats more quickly by helping out with our social media pages. Drivers – taking cats to vets and transferring them between schemes
Add your rescue group to the directory
We are happy to provide free listings for recognised charities and voluntary organisations involved in pet rescue.