National Animal Welfare Trust, Great Shefford
National Animal Welfare Trust | Berkshire | Great Shefford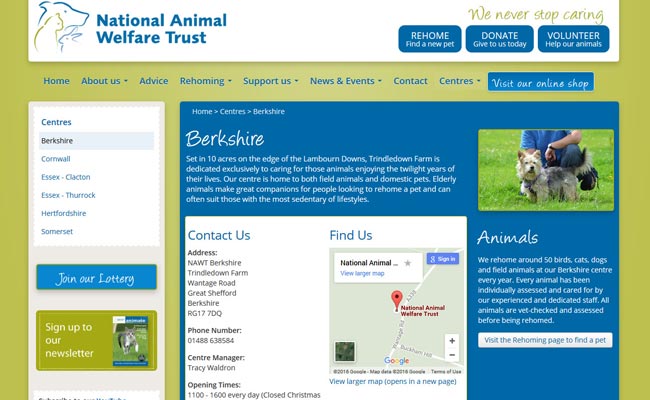 National Animal Welfare Trust
Trindledown Farm, Wantage Road, Great Shefford, Berkshire, RG17 7DQ
Contact : 01488 638584
Website : Click to visit this group's website
Email not Available
National Animal Welfare Trust Berkshire, Great Shefford – The Berkshire branch of the National Animal Welfare is located on a 10 acres site on the edge of the Lambourn Downs. Trindledown Farm is dedicated exclusively to caring for elderly animals. The centre is home to both field animals and domestic pets. Elderly animals can make great companions for people who are interested in offering them a new home. We rehome around 50 birds, cats, dogs and field animals from the Berkshire centre every year. Before adoption, all animals are individually assessed and vet-checked.
Add your rescue group to the directory
We are happy to provide free listings for recognised charities and voluntary organisations involved in pet rescue.